"Mystery has really broadened its umbrella to include a lot of very complicated story telling. And I am happy to be under that umbrella. " – Heather Young
Edgar first mystery nominee Heather Young, author of the wonderful novel THE LOST GIRLS, confesses, "I was a terrifically terrible fiction writer when I started." Now, with her second book recently sold to a NYC big five publisher, we get Heather's take on the difference between writing a book in graduate school and writing a book under professional deadline. We talk about revelation, clues, red herrings and blindly groping in the dark. The plague of self-doubt and ways to keep going; readers, and what we need from them when; alternating narratives; laborious revision processes; and sibling rivalry: tackled. Gain insight into taking something all the way to the darkest place you can go with it and the necessity of throwing rocks at the character you've fallen in love with. Where will that lead us but right to hope? Further, we ask ourselves, Is this a time when the terms of mystery and thriller are being very broadly apply to all kinds of books? This podcast investigates what being a lawyer taught Heather about the art of persuasion storytelling, how to make revelations feel earned, and the uses of spreadsheets, blizzards and luck in finding an agent.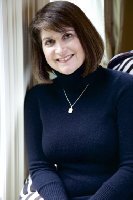 Heather Young
After a decade practicing law and another raising kids, Heather decided to finally write the novel she'd always talked about writing. She holds an MFA from the Bennington Writing Seminars, and is an alumnus of the Squaw Valley Writers Workshop and the Tin House Writers Workshop, all of which helped her stop writing like a lawyer. She lives in Mill Valley, California, with her husband and two teenaged children. When she's not writing she's biking, hiking, neglecting potted plants, and reading books by other people that she wishes she'd written.
She is currently working on her second novel, Lovelock.
Story Makers is a podcast that features in-depth conversations with accomplished writers, filmmakers and industry experts about story craft, technique, habit and survival–everything you need to know to stay inspired, connect to your creativity, find others' wonderful stories and your own success.
The hosts:
Elizabeth Stark is a published, agented novelist and distributed filmmaker who teaches and mentors writers at BookWritingWorld.com.
Angie Powers is a distributed filmmaker and published short story writer with an MFA in creative writing and a certificate in screenwriting from UCLA who teaches story structure at BookWritingWorld.com.